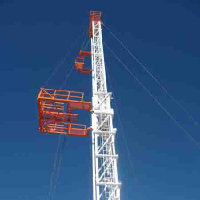 Piceance Well Service provides quality and experienced oil and gas well-servicing. Our knowledgable crews and operators, combined with state of the art rigs, offer efficient workover and completion projects. We work with customers on special projects such as plug and abandon, or servicing complex or difficult well conditions.
A rig package consists of a rig, pump, mud tank, four man crew, pickup truck and doghouse. We believe this gives our customers the best value and service at reasonable costs.
A detailed list of our equipment can be found on the
equipment
page.

P.O. Box 2606, Grand Junction, CO 81502 970-242-6900
Copyright 2011 by Piceance Well Service, Inc.
The cost-effective production of energy is critical to the growth and prosperity of the economy. Our role is helping energy producers through the delivery of quality tools and services at fair and reasonable prices.
Mission Statement
PICEANCE WELL SERVICE, INC.